Teaneck NJ Voter Information 2018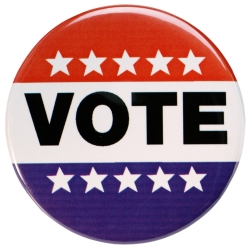 Municipal Election will be held on Tuesday, May 8, 2018
Voter Registration Deadline - April 17
Petition Filing Deadline March 5
Primary Election will be held on Tuesday, June 5, 2018
Deadline to change Party registration - April 11
Voter Registration Deadline - May 15
Petition Filing Deadline April 2 (includes petitions for County Committee)
General Election will be held on Tuesday, November 6, 2018
Voter Registration Deadline - October 16
Filing Deadline for Independant Petitions June 5
Filing Deadline for Board of Education Candidates July 30
Teaneck School Board Elections are included in the General Election. They remain non-partisan.
Registration
For additional languages and counties go to NJ Voter Registration Application Forms
In Teaneck, citizens can also register at the Township Clerk's office at the Municipal building. It will usually remain open till 9 PM on the last day to register. Other municipalities may have made similar arrangements. County Clerk's offices will also allow citizens to register through the due date.


To find out if you are registered to vote go to Am I registered? Enter your name and birth month to find out if you are registered. (Usually your first initial and last name will do.) For more information, click on your name and see detailed information. Scroll through it to find Polling Place information and dates of future elections.and more.
The polling place should appear on the sample ballot mailed to each registered voter prior to every election.

Polling Place Search can be used to find polling places and Voting Districts by supplying an address.

If you know your district see Teaneck Polling Places

Polling places are open from 6AM to 8PM.
Some voters who registered by mail after after January 1, 2003 and who did not provide identification information or whose information could not be verified may be asked for identification. This need not be a photo id and in fact the sample ballot mailed to registered voters is a form of identification. For complete details and other forms of valid ID, see, "Voting I.D. Requirements" on the NJ website. Though this should be a rare case, voters should bring identification in case it is needed.
Vote by Mail
For additional languages and other counties go to NJ Vote By Mail
Mailed applications must be received in the County Clerk's office (not postmarked) by close of business no later than seven days prior to Election Day.
You may also apply in person to the County Clerk until 3:00PM on the day before the election. Those who apply in person will receive a ballot and without leaving the County Clerk's office may fill it out and deliver the completed ballot! (Not as easy as going to the polls but In essence a form of early voting.)

Note: If you do not receive your Mail in Ballot, you may vote at your polling place by filling out a provisional ballot.
Election Information Sites


© 2016, 2017, 2018 Tom Abbott